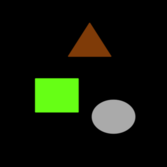 Fast money earning game! 60 seconds to richness! Profit or loss?
Tycoon One is a game with one goal: earn money as much as possible in 60 seconds. You earn by investing initial capital to resources and industries and then connecting resources to industries and industries to cities, where consumers live.
Features:
F levels for free.
FF0 levels as In-App purchase.
Total FFF levels.
Resources include oil, grain, swine, etc.
Industries include refinery, brewery, power plant, etc.
Cities include many major cities from Germany, UK, France and USA.
Simplistic UI.
No in-game help (you need to figure it out…).
No sound, no music and console.
Go ahead and see if you can earn some money!
Privacy Policy
Tycoon One does not collect any personal information. All preferences etc. are saved only locally to device.