OLViz: visualizing text with a single line
The next version of One Word Visualization visualizes a given text with a single line. I call it One Line Visualization and let's abbreviate it as "OLViz".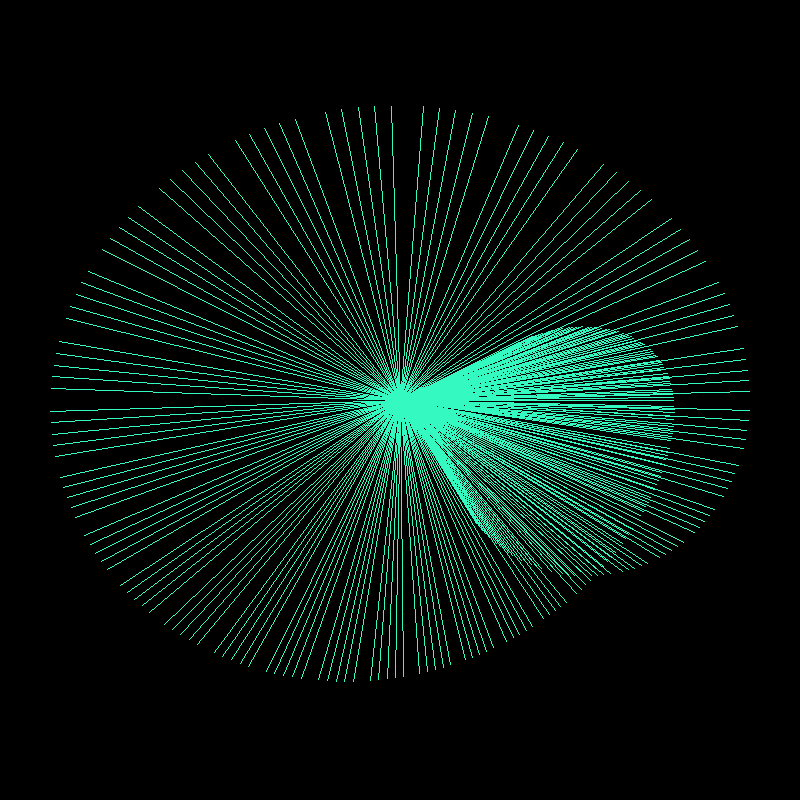 Idea of OLViz is to use a single colored line in 3D space to represent text. The way its done is to calculate MD5 hash from text and then use that hash as seed for Processing's random generator. Line vector coordinates, color and rotations are randomized and since each seed is unique then all texts have unique one line visualization.
The code is below and demonstration of the code is in OpenProcessing.
/*
One Line Visualization (OLViz)
 
 Generates visualization of a text.
 
 Author: 
 Sami Salkosuo
 
 */
import java.security.MessageDigest;
import java.security.NoSuchAlgorithmException;
import java.math.BigInteger;

String WORD="WORD";

int frameWidth = 800;
int frameHeight = 800;

int centerX = frameWidth / 2;
int centerY = frameHeight / 2;
float rotateOffset = 0.1;
int frame = 0;
int totalFrames = 314;

PVector lineVector;
PVector colorVector;

int  ROTATE_X=0;
int  ROTATE_Y=1;
int  ROTATE_Z=2;

int axis1Rotation;
int axis2Rotation;
int axis3Rotation;

public void setup() {
  size(800, 800, P3D);
  background(0);
  long seed = 1;

  colorMode(RGB, 1f);

  try { 
    MessageDigest
      digest=MessageDigest.getInstance("MD5"); 
    byte[] hash=digest.digest(WORD.getBytes());

    BigInteger bi=new BigInteger(hash); 
    BigInteger bi2=new BigInteger("0000000000000000ffffffffffffffff", 16);

    long upperMD5=bi.xor(bi2).longValue();
    long lowerMD5=bi.shiftRight(64).xor(bi2).longValue(); 
    seed = upperMD5 ^ lowerMD5;
  } 
  catch (NoSuchAlgorithmException e) { 
    println(e.toString());
  }
  println("seed: "+seed);
  randomSeed(seed);

  int[] xyz = {
    ROTATE_X, ROTATE_Y, ROTATE_Z
  };
  axis1Rotation = xyz[(int) random(xyz.length)];
  axis2Rotation = xyz[(int) random(xyz.length)];
  axis3Rotation = xyz[(int) random(xyz.length)];
  println("Rotate 1: " + axis1Rotation);
  println("Rotate 2: " + axis2Rotation);
  println("Rotate 3: " + axis3Rotation);
  populateArray();
}

public void draw() {
  if (frame >= totalFrames) {
    save("WORD.png");
    noLoop();
    return;
  }
  noFill();
  translate(centerX, centerY);
  frame++;
  float rotation = rotateOffset * frame;
  rotate(axis1Rotation, rotation);
  rotate(axis2Rotation, rotation);
  rotate(axis3Rotation, rotation);

  beginShape(LINES);

  stroke(colorVector.x, colorVector.y, colorVector.z);
  vertex(0, 0, 0);
  vertex(lineVector.x, lineVector.y, lineVector.z);
  endShape();
}

private void rotate(int axis, float rotation) {
  switch (axis) {
  case 0:
    rotateX(rotation);
    break;
  case 1:
    rotateY(rotation);
    break;
  case 2:
    rotateZ(rotation);
    break;
  }
}

private void populateArray() {
  float x = 0;
  float y = 0;
  float z = 0;

  float colorR = 0.5f;
  float colorG = 0.5f;
  float colorB = 0.5f;

  colorR = random(1.0f);
  println("ColorR: " + colorR);
  colorG = random(1.0f);
  println("ColorG: " + colorG);
  colorB = random(1.0f);
  println("ColorB: " + colorB);

  while (colorR<=0.1f && colorG<=0.1f && colorB<=0.1f)
  {
    //in the rare event that all colors are less than
    //0.1 then multiply by 10 
    //repeat if necessary
    colorR=colorR*10;
    colorG=colorG*10;
    colorB=colorB*10;
    println("ColorR: " + colorR);
    println("ColorG: " + colorG);
    println("ColorB: " + colorB);
  }

  x = random(-PI, PI);
  y = random(-PI, PI);
  z = random(-PI, PI);
  println("x: " + x);
  println("y: " + y);
  println("z: " + z);
  lineVector = new PVector(x, y, z);
  colorVector=new PVector(colorR, colorG, colorB);
  lineVector.normalize();
  lineVector.mult(0.39f * frameWidth);
  println("vector: " + lineVector);
}